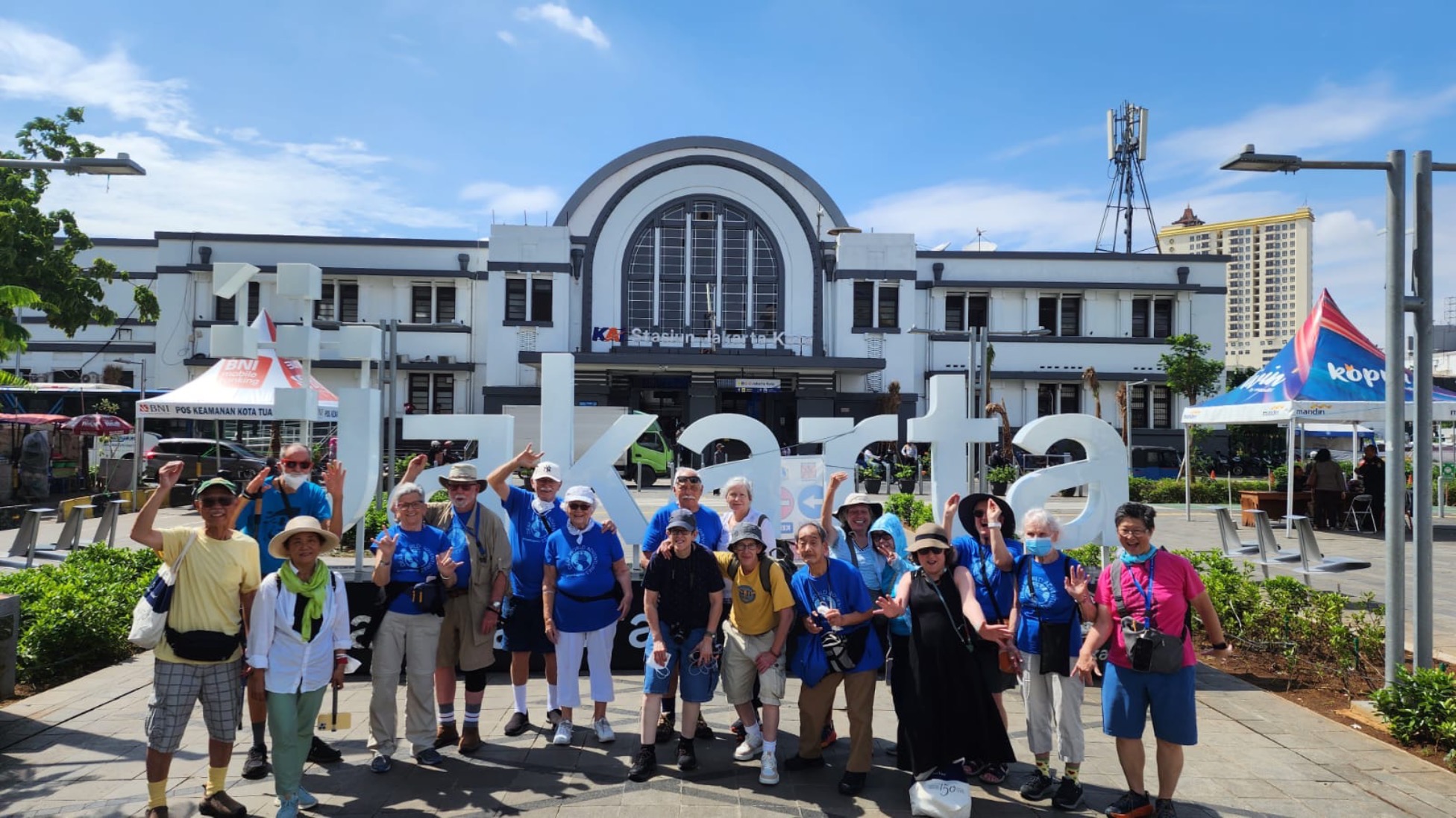 Wonderful Indonesia!
Our cruise to Indonesia on the Westerdam ship by Holland America was amazing. There were 23 of us including 3 Indonesian nationals who were our guides and interpreters. And to make this journey special, we embarked on St. Valentines Day, February 14, 2024, with lots of hearts from Holland America.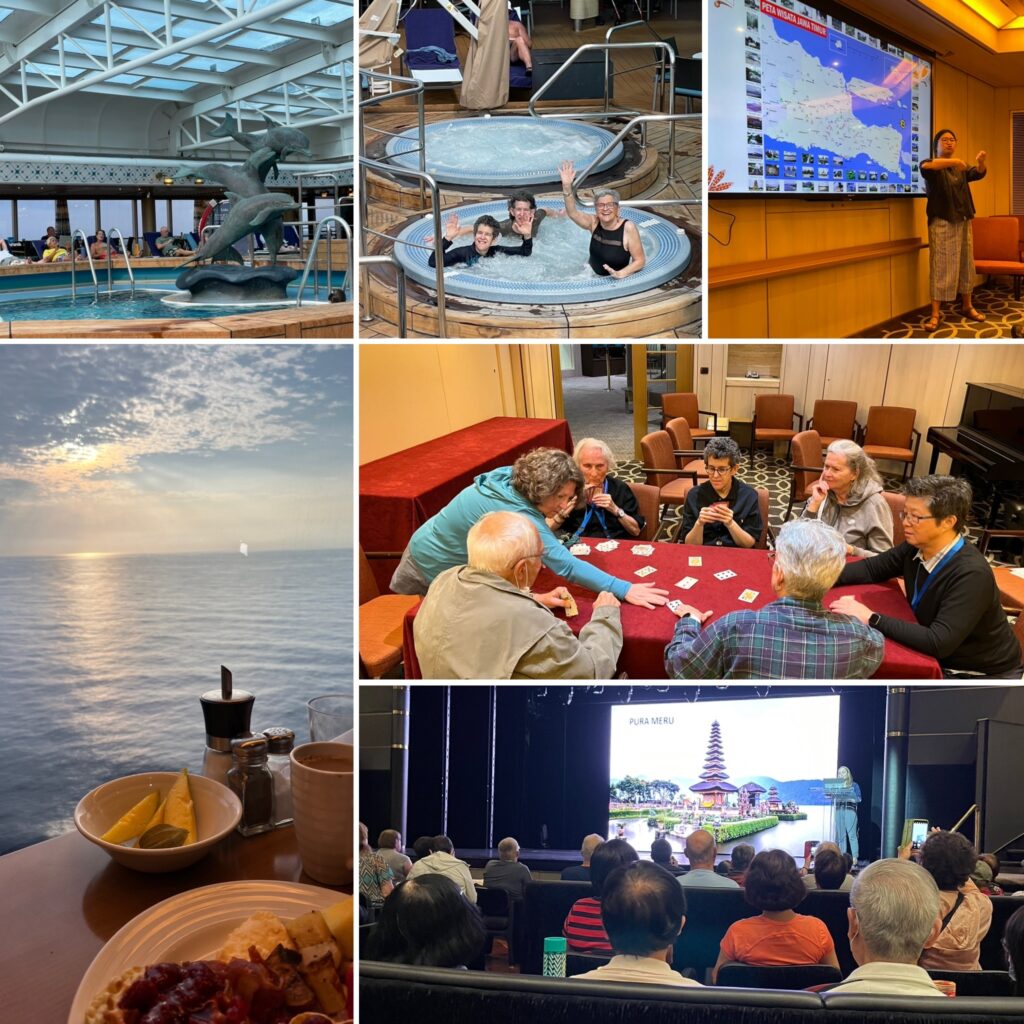 The cruise lasted for 14 days with overnight docking in Singapore. For 14 days, we stopped at eight different ports and went on an exploration. We returned to the ship exhausted and dirty from sweat. We'd shower, take dinner and then meet up for some game.
We only had three sea days of which we kept busy. Most of us went swimming, participated in lectures, played at the casinos, went for a massage, or relaxed in different spa rooms the ship offered. We played many games at the Crow's deck. The deck looked out to the front bow where we could see ourselves moving forward to our next destination.
As explained we stopped at 8 different ports for shore excursions. We did different things during our shore excursions. In the big city of Jakarta, the capital of Indonesia and one of the world's most 10 populated cities, we visited an old Dutch colonial square, Kota train station and we had an excellent lunch of Indonesian satay. then we stopped to meet with the Deaf community. We visited a TV station with Deaf employees and a newscaster. And we took a break at the signing Starbucks before we returned back to the ship for the night.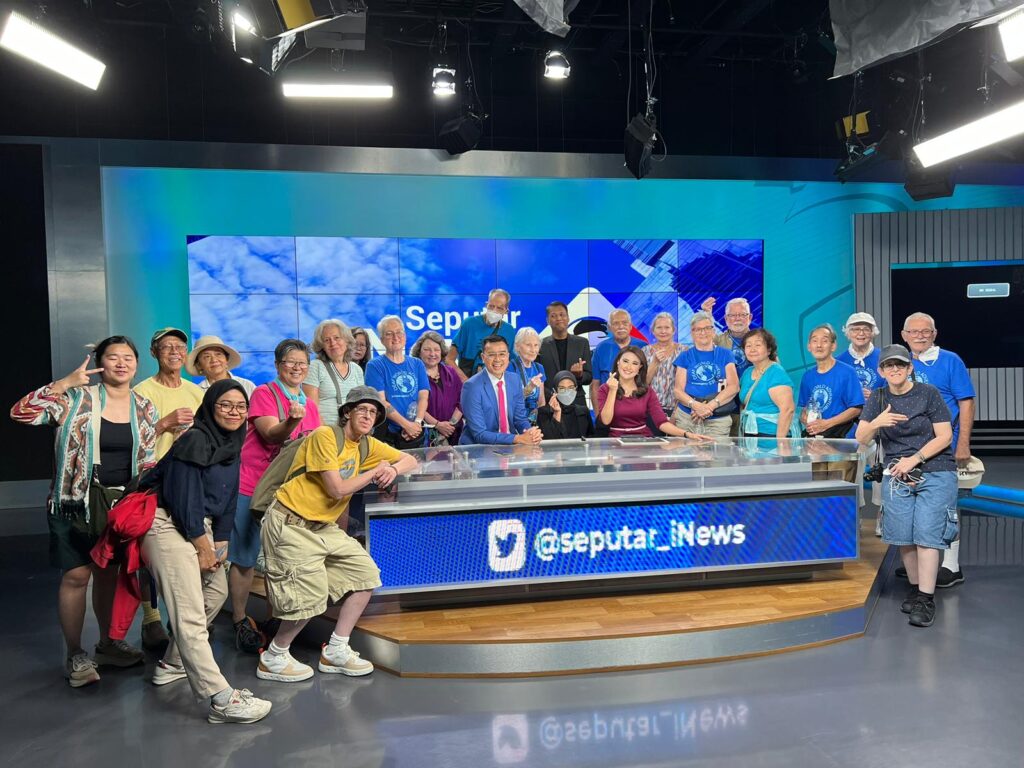 After Jakarta, we sailed across the Java sea to Probolinggo. There we got off to drive an hour away up to Mount Bromo, a beautiful and active volcano. Bromo is actually a dormant volcano but it had an active volcano inside it. We thought that interesting. Our drive to Mount Bromo was scenic. We saw many farm plots on steep hills and farmers climbing up to tend their gardens. And at one point on a narrow intersection on a hilltop, we were caught in a traffic jam with other jeeps carrying passengers from our ship. We smiled at each other and reconnect the ship.
We visited Komodo Island with vicious dragons. These Komodo dragons are huge lizards and are incredibly venomous. They can grow up to 3 m or larger, and weigh up to 70 kg or more. They live on Komodo Island which is a UNESCO World Heritage Site. They can kill an animal in a few hours. We signed up for a tour to see the dragons and their habitat. Our adventure was a nature walk on the beach and through a tropical forest to a savanna grassland hilltop. We saw the dragon and enjoyed our nature walk exploring the island's beauty. We thought Kodomo Island interesting if not also beautiful, too.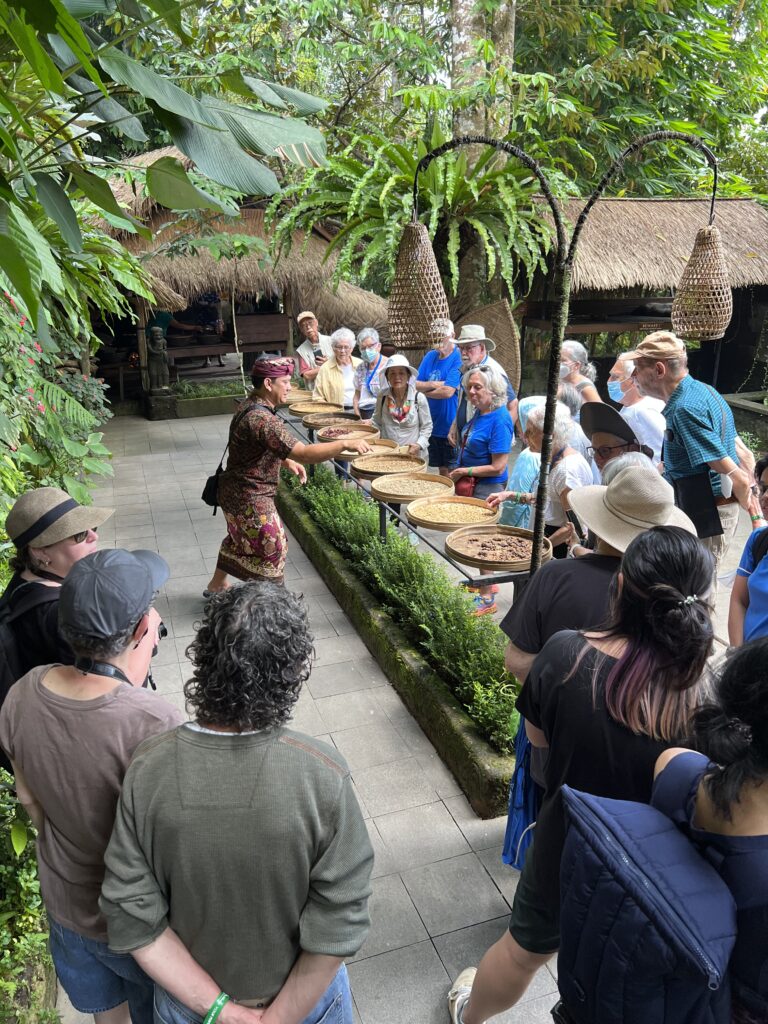 Our next stop was Bali Island. We were excited to see Bali. We had two stops in Bali, one in Benoa (Denpasar) and another stop in the next two days to Celukan Bawang, which is north of Bali. Both of our visits were guided by Wahyu of the Bali Deaf Guide. Our journey in Bali was fun.
In Bali stopped to visit a Kopi Luwak coffee site with coffee beans with a demonstration about coffee processed through an Asian palm civet/cat and after being defecated the beans are washed and roasted. We all tried the coffee and were impressed. Kopi Coffee is the world's most expensive coffee. We did a lot of things in Bali. We went to Ubud, an artisan village, visited the Monkey sanctuary with a temple, and enjoyed a seafood dinner on Kuta beach.
In the North of Bali, we drove far away from our port to Bengkala, a village where everyone spoke sign language. We stopped to visit the School and met with the schoolmaster and Deaf and hearing students. The students performed a dance and also some Deaf adults from the village performed their village dance. It was fun to watch the dance. Some travelers were invited to join in the dance. We also visited the Deaf classroom. We had a nice time making new friends with both Deaf and hearing villagers who spoke sign language.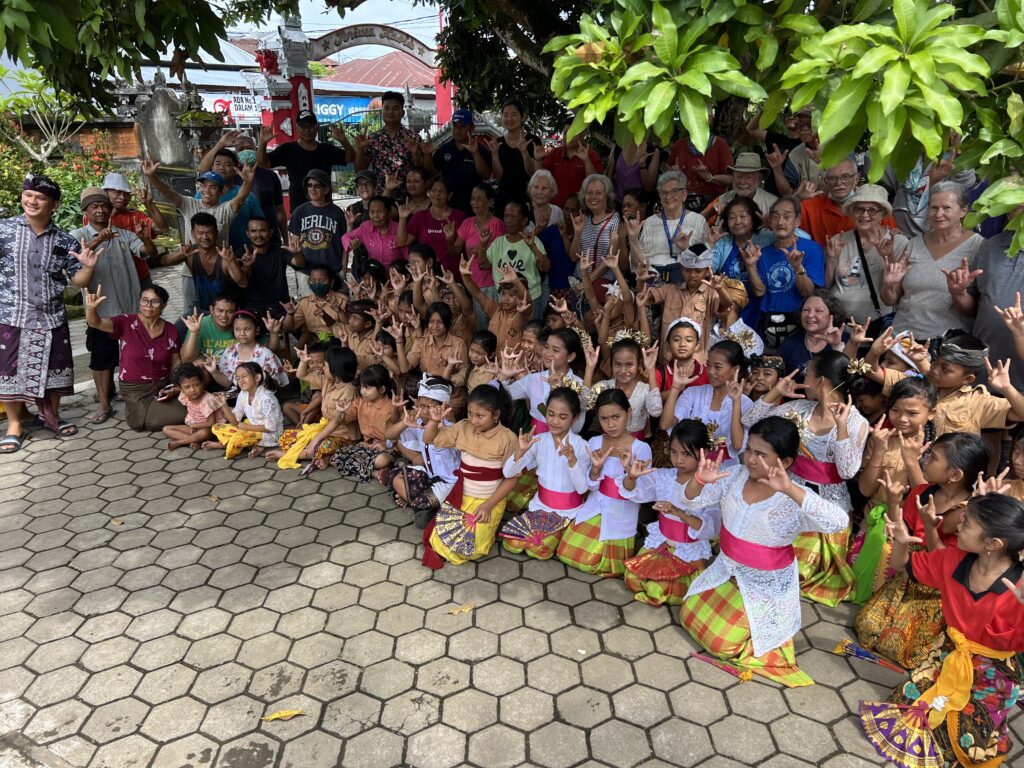 ---
Lastly, we stopped at the Pura Ulun Danu Beratan Temple. It is one of the nine 'Kahyangan Jagat' Temples dedicated to the Hindu gods. It's an icon of Indonesia. It appears the 50,000 Indonesian Rupiah note. We took lots of pictures with heavy clouds. It rained by the time we got back to our bus for our return to the ship.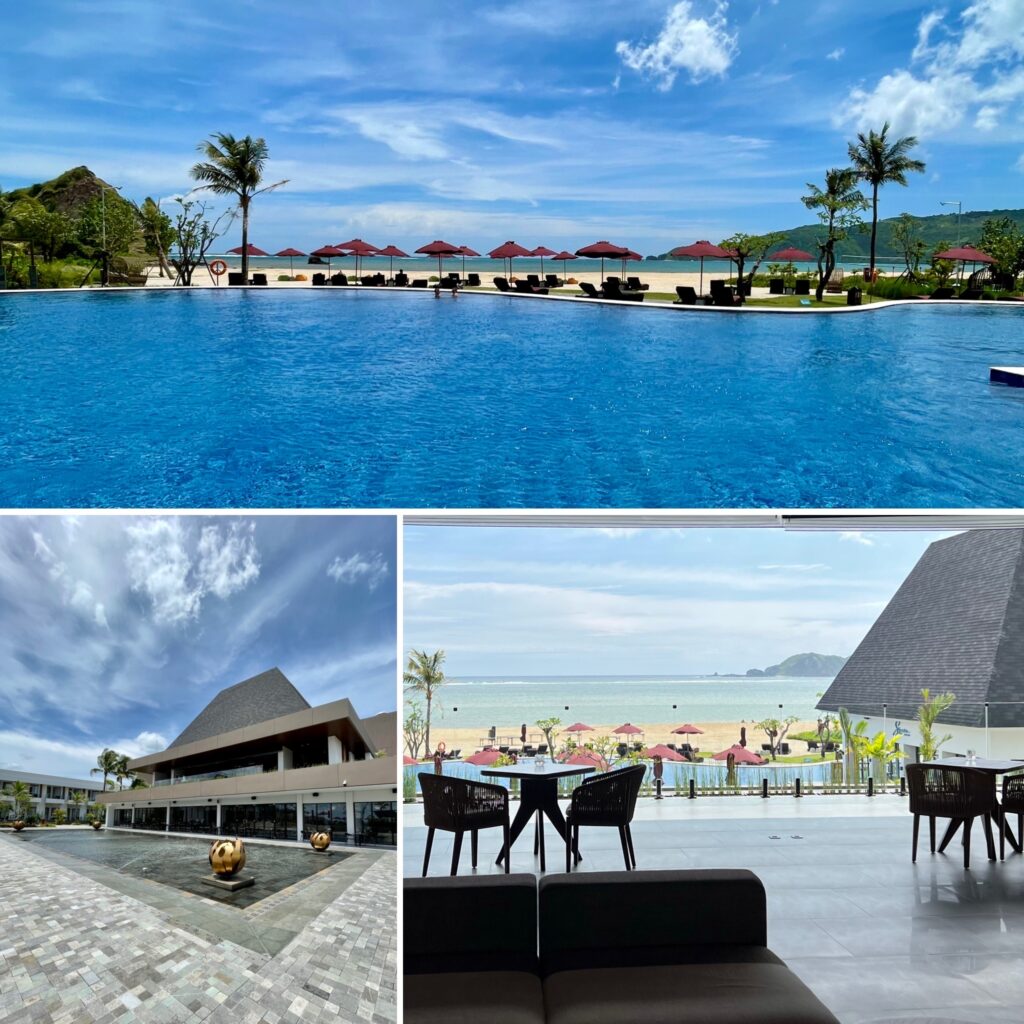 The other two remaining destinations included Lombok and Surabaya.
Lombok was a laidback island. We went to see a museum and an open-air museum with a village with weavers. Some of our travelers bought some really nice fabric.
And then we went to relax at the five-star hotel, the Pullmans Resort. We had fancy lunch at this fine place. We also walked on their beach which had very soft grainy sand that would sink you to your knees. The sand was interesting. We waddled in the sea and swam in their huge swimming pool before returning back to our ship.
Our last destination was Surabaya of East Java. Surabaya is a vibrant port city with canals and buildings from its Dutch colonial past. And it has a thriving Chinatown and an Arab Quarter whose Ampel Mosque dates to the 15th century.
We started in the morning stopping by the Tugu Pahlawan, the Heroes Monument, that honors the independence battles waged in Surabaya's streets in 1945. It's a memorial park with tall monuments and other statues. The monument park is a reminder of Indonesia's independence from colonial rule. The place had interesting slabs with carvings about their fight.
Then we went to visit this lovely Majapahit Hotel built by Iranian brothers during Dutch colonialism. The Majapahit Hotel was so interesting because the hotel had architecture and design borrowed from different cultures. After the hotel, we across the street for our lunch. We had a really delicious lunch of Indonesian food. We ate most of everything they served. CHAMP!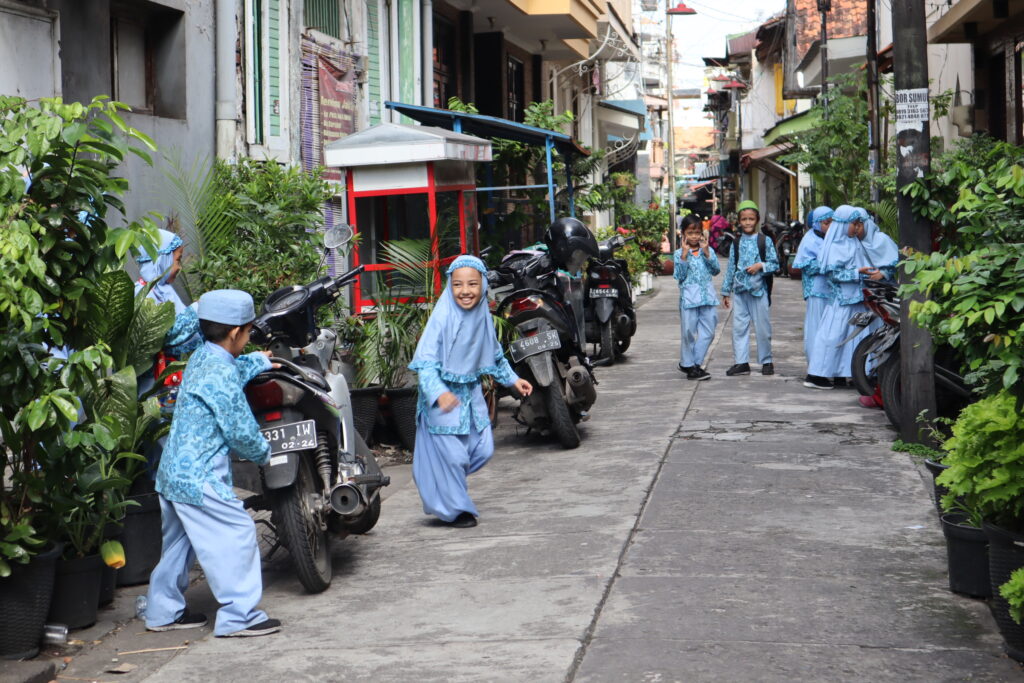 Following we went to the Muslim Quarters founded by Arabs immigrants. The place had an Arabic-style market and the old Ample Mosque that dates back to the 15th century. Also nearby was the Chinese community with old Chinese warehouses and shops.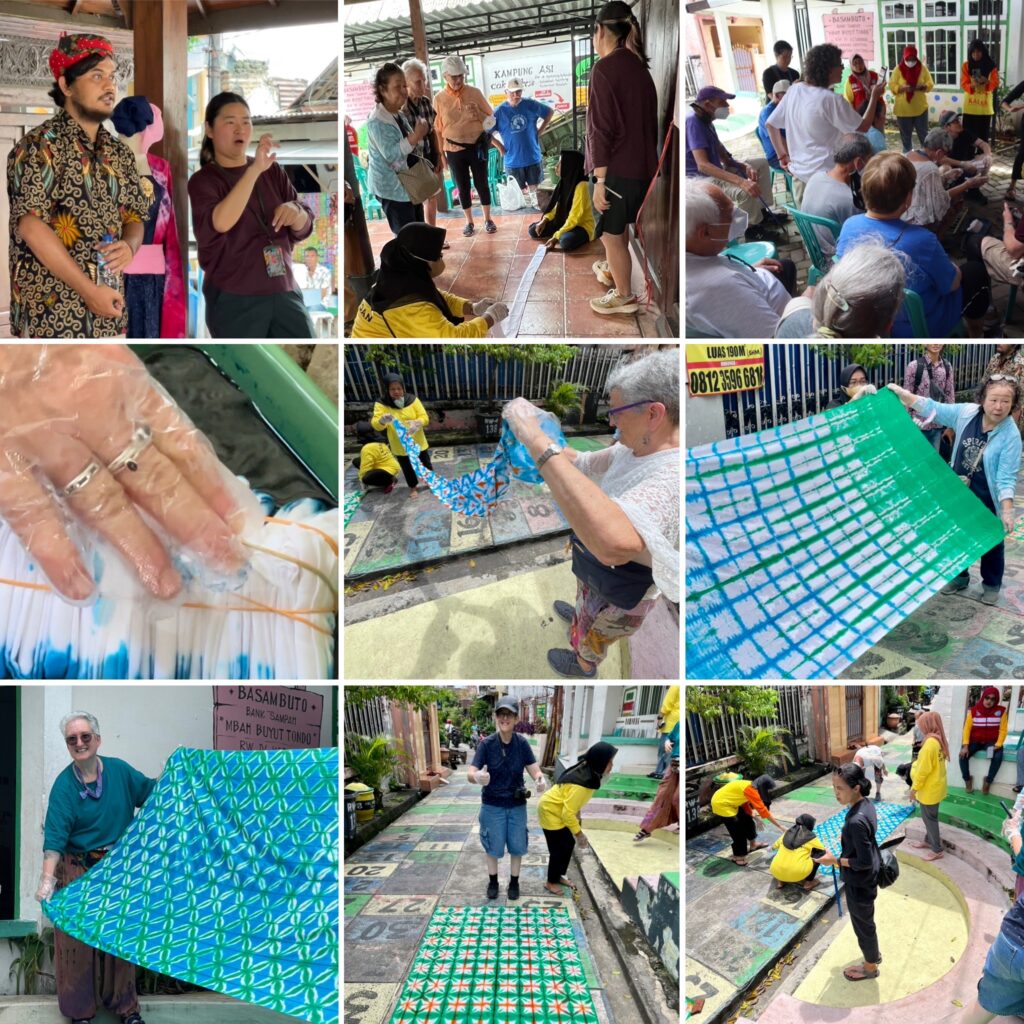 Next, our guide took us on a lively tour of the Kampung Ketandan neighborhood with colorful painted walls and streets. We stopped at a center where many Muslim women in yellow shirts were waiting for us. They showed us some really beautiful work batik work. And we were offered to experience some batik dying. Yes! We experimented with some dyes. All of the work by our travelers turned out beautifully. This was a fun experience.
Lastly, we went shopping at a store for some batik material, clothing, and other stuff. We bought a batik shirt for one of our travelers who had a birthday coming up and would turn 89 years old. While shopping for his shirt. He kept following us around because he wanted a batik shirt. We knew and tried to get rid of him by telling him that the shirt didn't look right on him. We wanted to surprise him with a shirt for his birthday. Finally, our guide called us. It was time to go. This was when we could buy the shirt.
The next day was his birthday, we gather to sing "happy birthday" and presented him with a bag with the shirt we bought. He was totally surprised after he opened his present the next day. It was funny because we all remember the episodes at the batik store with him.
Indeed to share, in the beginning before we all arrived, the weather news reported rain every day but… it lied. We rarely had rain during the day, mostly in the evening while sleeping. We were blessed with nice weather and good times.
Here are some photos of the adventures. Deaf World Adventures will plan another Indonesian Discovery Cruise with shore excursions for 2025. If you are interested. Let us know.
---
Share our story with family and friends.