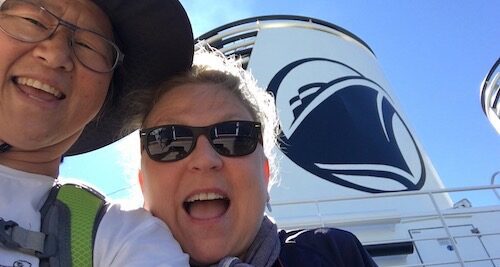 Let's talk about this.
Why do we pick Holland America Line (HAL) cruise company for our cruise adventures?
Well, first of all, we think they're great. And our past experience with HAL was awesome. Also, we thought the type of passengers on the boat were seasoned travelers. If you don't know what this means, google it. 
Ok Now, why do we like HAL? How about we start with the most recent news reports about different cruise lines? Isn't this how we learn and compare the different services available to us? Let's begin with, reading what the most recent news reports published by well-known travel and cruise magazines say. See following.
Recently, on July 12, 2022, Travel + Leisure, one of the largest and most highly respected travel magazines, published a report, "The 5 best large-Ship Ocean Cruise Lines". In this report, HAL was ranked #4 among the top 5 best Ocean Cruise Line for 2022.  There are a total of 314 cruise companies in the world. HAL listed as top 5 is remarkable.
U.S. Travel News, another popular travel magazine made a report on the Best Cruise Lines for Money in 2022. For the money, they meant a cruise with the best value. In this report Holland, America Line was ranked #2 with Celebrity as best  #1 and Royal Caribbean International #3.  This is something to think about coming from U.S. Travel News.
And another popular travel news blog, Far and Wide, reported the "World's Best Budget Cruise Lines" HAL was ranked #2 among 8 other well-known cruise companies.
Anyone can easily search for other reports on HAL's ranking and news coverage about HAL's awards in other leading travel magazines. Although this is not to say that everyone loves HAL or had a great experience on the ship. HAL can be expensive, depending on the cruise itineraries, speakers, chefs, and performers they hire. And there are travelers who prefer a ship that sports more features for activities. Most HAL ships are basic and simple perhaps because their mission is focused on the traditional cruise experience.
Now, let us tell you why we at Deaf World Adventures prefer HAL. We have 5-pointers to share with you.
HAL is one of the oldest existing cruise line companies in the world. They've got the experiences and have many stories and records of past cruise expeditions. Their Explorations Central (EXC) program with poster presentations and speakers is excellent. We at Deaf World Adventures felt that we get good information from their experts before we get off the ship for shore excursions.
Many HAL ships were newly renovated before the COVID pandemic and several older ships were renovated during the COVID pandemic. This results in HAL stateroom cabins looking totally new. That's if you compare photography of rooms with other ships. Also according to many bloggers and travelers, HAL cabin rooms appear slightly larger than average cruise line rooms. We believe that this is the result of the renovations with their new designs.
More interesting out of 2,219 cruise ports in the world, HAL has permits to over 300 ports, across all 7 continents which makes their list of destinations long. We have taken particular notice that HAL tends to have longer cruise itineraries and many more stops for shore excursions than other cruise lines.
A happy meal creates a happy cruise experience. We all want good meals for as many days on a ship. We see that HAL is capable of this. HAL has many awards for good foods and drinks. Also good to know is that HAL has other dining options than just the cafeteria and dining room that is included in the cruise package. HAL has other restaurants, poolside concession stands, cafes, and bars. Also, HAL hires chefs to join on the cruise and cook their signature dishes. HAL has some of the best chefs, cafes with experienced barristers, and bars with friendly and fun bartenders. Last April 2022 HAL won an award for the best cocktail drinks. Robin and Peggy, the conductors at Deaf World Adventures thought HAL's food was good. And thank god there are gym facilities, a running track on top of the boat, and beautiful docks for walking around the ship. You can burn the calories while cruising.
Lastly HAL's motto, "savor the journey" clearly states that they focus on the traditional cruise experience. This is what we really like about them. We see that their style is a leisure cruise expedition that emphasizes destination, journey, discovery, and cultural immersion. We share this type of vision at Deaf World Adventures. Savor the journey!
Again, we recognize that HAL aims to offer great dining and drinking experiences, exciting music and dance performances, educational lectures, documentary films, and excellent spa services. HAL's onboard entertainment and EXC lecturer programs are voted as one of the best in the cruise industry.
Although to be honest with everyone, we struggle in negotiations on making their onboard entertainment and programs accessible to Deaf and hard-of-hearing passengers. We know that most of our travelers prefer sign language. The downside is that Sign Language is either still not fully understood, or may be denied, ignored, or avoided. Our greatest obstacle is that ADA requires tours including cruises to accommodate Deaf and hard-of-hearing travelers inside the US or when a travel itinerary shows that embarkation and disembarkation are on the US grounds. Whenever there is itinerary outside of the US, we have to discuss and negotiate everything carefully. We don't always get what we want. Better yet, we do see that HAL is open and trying to work out some plans with us. We are impatient but very patient about this.
Also, we want to reflect on some differences in style between HAL and some other cruise companies. You may notice that HAL ships are not designed with amusement park-like rides or wild-themed rooms nor swimming pools with slides. If HAL did have those wild theme features, it would not be the HAL we know. We don't have any problems with wild themes onboard. In fact, we think these options are great for people who love theme parks with rides, and big slides. We agree that such a style is very good for families with young children. This is not to say that HAL does not have onboard activities or programs for kids. They do have programs for children and may be more geared to hands-on types of activities rather than all playgrounds. HAL does have a playground space for kids.
We at Deaf World Adventures are promoting 3 cruises with Holland America Line. We have two in 2023 and they include the Indonesian Discovery (Indonesian Islands) and the Voyage of the Midnight Sun (Norway). In 2024 we have stateroom cabins available on the Far East Discovery Cruise starting from Singapore, Thailand, Cambodia, Vietnam, and Hong Kong, China.
You are welcome to join us on one of our cruises or all three of them.
---
Random Selection of Deaf World Adventures Photos on HAL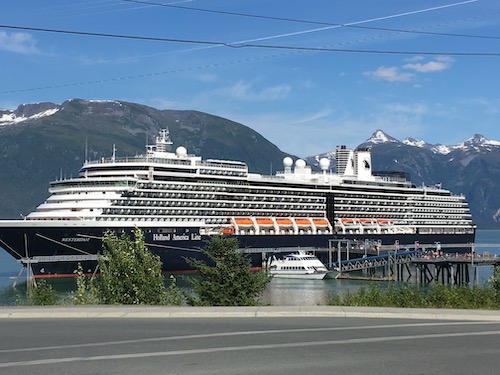 ---
Some Links to famous travel news publications.
Travel + Leisure – The Best Large-Ship Ocean Cruise Lines – 2022 (published: July 12, 2022)
Far and Wide – World's Best Luxury Cruise Lines, Ranked, (published August 2, 2022)
Conde' Nast Traveler – The Best Cruise Lines in the world: 2021 Reader's Choice Awards (published October 5, 2021)
U.S. Travel News – Best Cruise Lines U.S. News. Rankings: Best Cruise Lines for the Money – 2022 (published August 13, 2022)
Holland America Line Awards & Accolades – Excellence on Sea and on Land (HAL website, August 13, 2022)
---
Free to share with family and friends.