TBA for August 2025
---
Share this awesome tour with your family and friends.
---
Trip Highlights
Walk the green valleys & canyons of the Caucasus Mountains.
Explore the ancient temples, monasteries, and churches.
Visit the world's oldest wineries in Yerevan & Tbilisi.
Discover the culture of the people of the Caucasus. 
---
Trip Summary
Trip Facts
Multi-country, Sightseeing, Culture Immersion and Nature Walks

Sightseeing, hands on experience, nature walks, scenic drive, food tasting and cuisine experience

Private Vehicle (van/minibus)

National Deaf Guide and local guides with some who are Deaf

American Sign Language, International Sign & English

easy/medium - walking on concrete, some climbing stairs & standing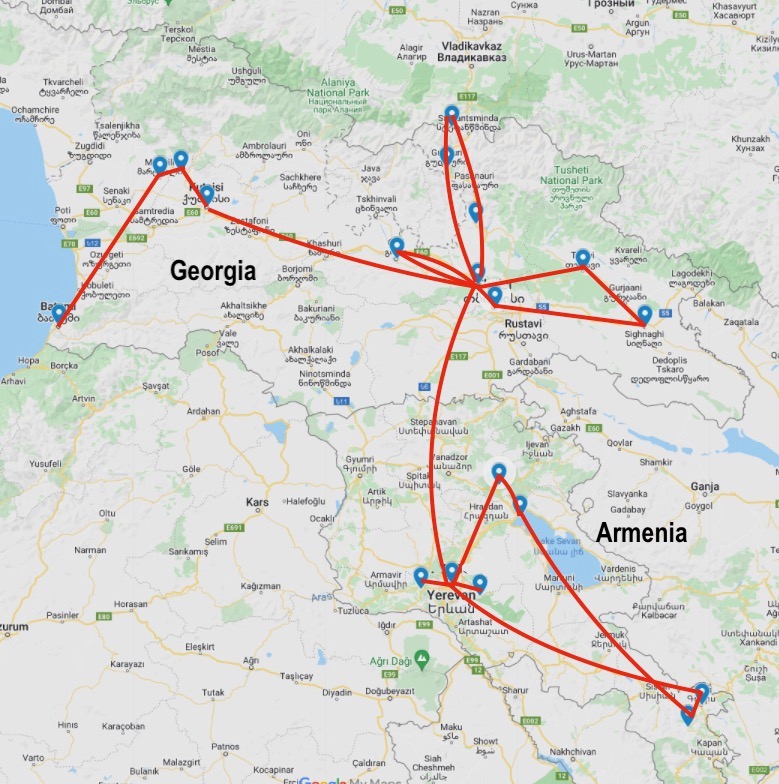 ---
Discover the natural beauty and fascinating history of the South Caucasus. Meet the people and learn about the culture of Georgia and Armenia. They share the Caucasus mountains, yet they lead a totally different lifestyle.
On this tour, you visit some of the world's oldest inhabited towns and cities. You stroll around the pre-Christians and medieval towns with the ancient architectural masterpieces and are surrounded by lovely scenery of red cliffs, snow-capped mountains, thick green forests, or floral gardens. There are many architectural buildings, landmarks, and cultural elements including cuisine foods that are listed with the UNESCO World Heritage as important historical sites or cultural items.
You enter some national museums and private memorial halls that will guide you through important times in the two countries or introduce you to the country's national artists, writers, poets, scientists, and leaders. Two samples from the itinerary include the visit to the Matenadaran, a repository of the world's ancient manuscripts and rare books in Yerevan, Armenia. Your guide will show you some really interesting manuscripts and books. And in Uplistsikhe, Georgia you visit a preserved archeological site of an underground cave city with hallways that are tunnels and holes in the wall that were made into living spaces such as sleeping rooms, storage, a winery, a meeting hall, temples, churches and more. People in pre-Christian times dwelled in those caves. Check our itinerary for the other planned sites.
You travel to different cities and towns in a private vehicle. You follow the routes that take you through lush valleys with green forests, a semi-arid desert with canyons and red cliffs, and vineyards that have been in the region for thousands of years. Along the way, you stop to see natural landmarks including Armenia's famous view of Mount Ararat, Georgia's deep green canyons, and many other natural sites. There will be opportunities for a nature walk and boating. And you stop for local lunch with foods farmed and prepared by the people of the village or town. Your itinerary is filled with many opportunities to see awesome scenery and taste delicious Georgian and Armenian foods and including their wines and cognacs.
The tour also includes visits to old caravan sites, markets, inns, and taverns that were established during the ancient Silk Road trade. You learn about the old network of trade routes that connect the East and West. Also interesting are the Soviet incorporations in the two countries. Your guides will show you the Soviet-era architecture, an abandoned luxury hotel, and infrastructure systems such as those old rusty cable cars and the stations you see in Chiatura, Georgia.