TBA for June 2024
---
Share this awesome tour with your family and friends.
---
Trip Highlights
Visit the three Baltic States countries – Estonia, Lithuania, & Lavita.
Marvel at the ice-blue sea, sand dunes, green forests, and lakes.
Discover the Medieval towns with narrow cobblestone streets.
Explore markets each with its own national foods, and crafts.
---
Trip Summary
Trip Facts
multi-country tour, cultural immersion, site visits and nature walks

sightseeing, hands on experience, nature walks, scenic drive, wine/beer tasting and cuisine experience

private vehicle (van/minibus)

National Deaf Guide and local guides with some who are Deaf

ASL, International Sign and English

easy - walking on concrete, cobblestones, dirt paths, boardwalks, some climbing stairs & hills, standing, long drives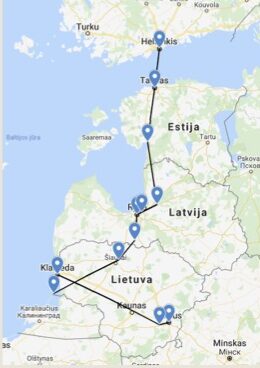 In this tour you will make your way through both national parks and historical cities and towns, taking in the old town districts, Gothic cathedrals, and natural scenery.
You discover the region's heritage, medieval roots, Baltic folklore and traditions, Eastern Europe and Scandinavian cultural influence and architecture, political history, and many war monuments of their bloody fights for independence against the Germans, Poles, and Soviets. You will be amazed at how the three tiny countries so close to each other have managed cultural and linguistic diversity
Travel the three countries in a private vehicle with a national driver's guide. Drive through the natural scenery, passing crumbling castles on some hills, and agricultural regions to small towns. Along the way, you stop to see some history and special landmarks. Enjoy a leisure walk in thick forest natural parks with magical streams and lakes. And Spent overnight at the three antique capitals, Vilnius, Riga, and Tallinn. These old towns are lively with restaurants, museums, art galleries, specialty shops, and bar scenes.
And last take a ferry crossing the Gulf of Finland which is a part of the Baltic Sea to Helsinki, Finland for some more historical and cultural sightseeing.  Did you know that Finland was a part of the Baltic States after World War?  In 1955 Finland changed to the Nordic council with four other countries, Sweden, Norway, Denmark, and Iceland.