TRIP DATES
AVAILABILITY
PRICE
SPACE LEFT

January 30, 2024

- February 12, 2024

Guaranteed

$4400

January 28, 2025

- February 10, 2025

Guaranteed

$4400
Dates and prices are subject to change.
Trip Highlights
Follow a nature trail to see the Japanese snow monkeys bathe in hot springs.
Snowshoe through Shiretoko National Park, a UNESCO biodiversity site.
Explore picturesque villages, temples, and shrines covered with snow.
Join millions of people at the famous annual Sapporo Snow Festival.
---
Share this awesome tour with your family and friends.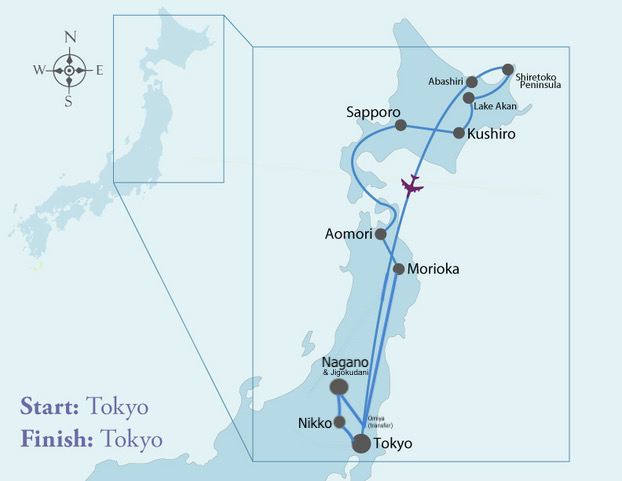 ---
Start in Tokyo, one of the world's most contemporary cities, and travel upward north to Japan's winter wonderland. Japan has more than a few cities listed as the world's snowiest. You will be surprised to learn how deeply snow is ingrained in Japanese culture. In the best that Japanese winters have to offer, Japan has one of the world's most remarkable winter festivals with giant snow sculptures, winter sports, and lots of fun snow activities. From the gorgeous winter scenery, learning about Japanese heritage and culture, to staying in a Japanese inn with hot springs, the experience is unforgettable.
Highlights of this tour include a number of winter sports activities where you don some winter gear and play in the snow.  The tour includes a walk on snowy trials into Japan's picturesque winter landscapes to watch the Japanese macaque (aka the snow monkeys) soak in hot spring water, the nearly-extinct Japanese red-crowned cranes dance, and other wildlife animals, birds, and fishes making appearances in the parks you visit. The tour includes snowshoeing through the Shiretoko Peninsula, a UNESCO world heritage site where wildlife of the deer, foxes, and eagles make appearances. The park is special and it is close to the public during the summer for conservancy reasons. It reopens only during winter when snow covers the ground.  A limited number of people may enter the park per winter day.  More exciting, we dare you to walk on ice floes at the Okhotsk Sea and if you have diving licenses, you may swim among the ice and search for a school of clionidae, known as glowing sea angels. 
Also on the tour, you stop to visit quaint historical towns, Nikko, Nagano, and Aomori where you will see some Japanese Buddhist temples, shrines, and old merchant streets, join millions of people at the annual Sapporo Snow Festival, meet the Ainu, the native people of Japan at Lake Akan in Hokkaido and learn about their heritage and culture, and you go see an art gallery that exhibits amazing wood sculptures of Ainu culture by the late Masamitsu Takiguchi a well-known Deaf Japanese wood artist.
Furthermore, you dine on great northern foods and taste some of the region's best-known beer and whiskey as you enjoy an adventure of natural, cultural, and artistic delights that celebrates the splendor of Japan's far north.