TRIP DATES
PRICE
SPACE LEFT

May 2, 2024

- May 23, 2024

$4500

September 20, 2024

- October 11, 2024

$4500
Share this awesome tour with your family and friends.
---
Trip Highlight
Travel to some of the world's oldest cities in Israel and Jordan.
Ride a camel and a jeep on the sand dunes of the Wadi Rum.
Visit a Bedouin and join the family for a traditional meal.
See some of the world's holiest sites in Jerusalem.
---
Trip Summary
Trip Facts
private vehicle (van/minibus)

sightseeing, desert adventures & culture immersion

easy/medium - walking on concrete, some climbing stairs, standing & long drives

ASL, International Sign & English

The Long Trail provides the guides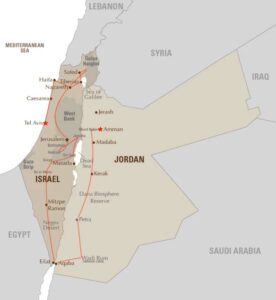 ---
Experience the Middle East on an unforgettable journey that combines Israel, Palestine, and Jordan. Discover the beautiful beaches, dry red deserts, striking cities, and fascinating historical sites. You experience a great adventure from exploring the modern and ancient cities and learning about the different cultural and religious heritages. And taking part in a different culture and sporting activities that include adventures on the sand dunes, staying overnight at a Bedouin camp, floating on the waters of the Dead sea, seeing a real oasis in the desert, and riding a camel with the rising sun.  The two countries Israel with Palestine and Jordan are renowned around the world for their ancient cities.  You go visit interesting places.  Many of the sites and landmarks that you see are listed on the UNESCO World Heritage Site. Your pilgrimage to the Holy Land will be an experience that you will never forget.
Destinations include Tel Aviv,  Jaffa, Carmel Mountains, Hafia, Nazareth, Golan Heights, Jerusalem, Hebron, Bethlehem, Dead Sea, Negev, Jericho, Eliat, and Petra including the famous Wadi Rum desert, and Amman.