Deaf World Adventures News
Get news and stories about our guided tours at Deaf World Adventures (DWA).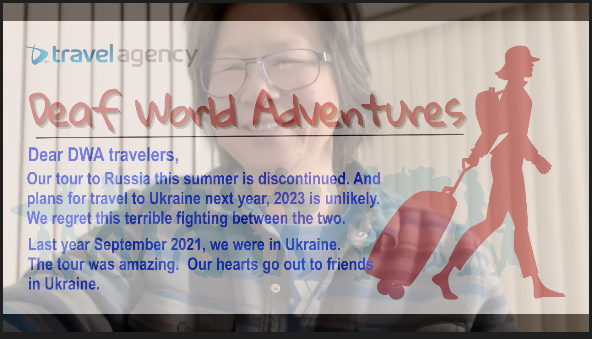 We announce today that our Russia land tour with river cruise this summer is discontinued. And our tour to Ukraine next year 2023 is unlikely. It is very sad to see the tours fall through. At first, we had to postpone the tours because of the COVID pandemic. We were lucky to be able to […]
Read More
Deaf World Adventures DBA D-travel Agency. SELLER OF - California #1018299-10, Iowa #763, Nevada #2003-0393, and Washington# 602-341-432. ©2022 D-travel Agency All rights reserved. ALL MEDIA (photography, graphic & art) are for commerical use and licensed by HAL, iStock, Bootstrap, Unsplash & Pixabay.