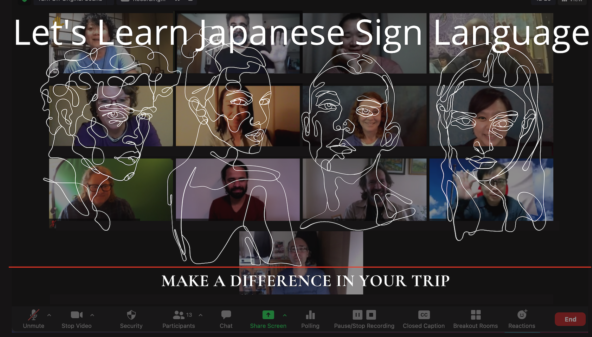 We're excited to share with you that our Deaf World Adventure (DWA) tours to Japan now include Japanese sign language lessons. This is the first time we will do this.
the plan is for those who sign up for a DWA tour to Japan this 2022 year will get free lessons to learn useful and culturally appropriate signs that are used on the tour and when mingling among JSL signers.
Lessons are provided by Nadeshiko Yoriai, the translang company in Tokyo owned by Deaf in Japan. Nadeshiko Yoriai provides sign language classes in Japan and offers language services in interpreting, translating, and support services for Deaf foreigners in Japan. And they provide tour guide services under the auspice of a larger tour agency in Japan. With their support, Nadeshiko designs and manages the Deaf tours to Japan. We use Nadeshiko Yoriai's guide services for tours to Japan. They're great.
Why are we doing this?
We have two reasons. One is because we want Deaf travelers to not only learn the English translation Japanese language. We notice how many hearing travelers learn how to speak some Japanese words and use them in their English conversation in their groups. Such as being able to tell about specific cultural items and heroes. Our Deaf guides in Japan have to either fingerspell or learn the ASL for Japanese words. Deaf World Adventures does not feel too good about this. It doesn't feel nor look right either. We want to change that by offering JSL classes to those who are coming to Japan.
Secondly, we're so hooked on Deaf Eco. We believe that we should support our Deaf community including our international Deaf communities. It makes perfect sense to us that like other travelers learning to speak the language of the country they will visit, Deaf travelers should have the same opportunity. Not only that, it is respectful to learn the culture and the sign language of the country before visiting. We want to show our respect to the Deaf Japanese.
We're so excited about this. Our first Japanese Sign Language class for travel is likely to happen this September 2022. But that's if … Japan opens up to tourists. As of now, it's still closed to tourists. The Japanese government keeps saying they will open up soon. We're waiting.