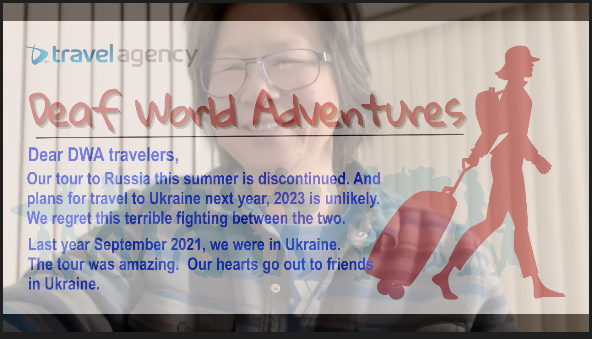 ---
We announce today that our Russia land tour with river cruise this summer is discontinued. And our tour to Ukraine next year 2023 is unlikely.
It is very sad to see the tours fall through. At first, we had to postpone the tours because of the COVID pandemic. We were lucky to be able to reschedule both tours to a later date. Ukraine was rescheduled for September 2021 and 2023. We had two tours. Russia was rescheduled to August 2022.
Luckily, we went to Ukraine last year September 2021. The tour turned out very well. Our group learned so much about the country and had a lot of fun. Our Ukraine guides (both Deaf and hearing) were wonderful.
But now there's a bloody fight between the two countries that have made it not safe for us to travel there. We are disappointed. We worked hard with wonderful people in both countries and now this.
We at D-travel Agency are against Putin's war. We stand with Ukraine. Please let there be peace.
---
---